Overview
Unleash your students' digital creativity!
#gwdigiawards2019
The DigiAwards enables primary and intermediate students from throughout Canterbury to design, develop and showcase their digital outcomes. 
By participating in the DigiAwards, schools can help realise the New Zealand Curriculum vision of our young people being confident, creative, connected, actively involved, lifelong learners. The DigiAwards provides an opportunity for our learners to:
experience learning that is underpinned by the high expectations and future focus principles
explore the values of excellence, innovation, inquiry, and curiosity
develop key competencies
achieve learning outcomes described in the English and Technology learning area, in particular the digital technologies areas: Computational thinking for digital technologies (CTDT) and 

Designing and developing digital outcomes

 (DDDO) of the Technology learning area.
Select DigiAwards 2018 winners or scroll down this page and view a mashup of 2018 entries on YouTube » 
DigiAwards and the new technology learning area
The revised technology learning area has five technological areas, and two are digital focused:
These new areas set out what young people need to learn to become skilled creators, rather than just consumers, of digital innovations and inventions.
The diagram below, from Kia Takatū ā Matihiko (Digital Readiness), highlights the differences between e-Learning and digital technologies and unpacks the desired outcomes of the revised technology learning area. The content ringed in blue makes sense of the new technological areas and offers examples of digital technologies in action.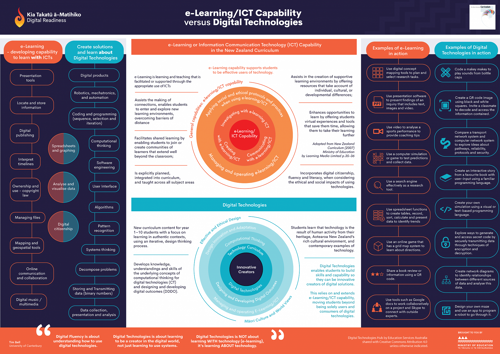 DigiAwards is consistent with an emphasis on future focused pedagogies, enabling primary and intermediate students to design, develop, and showcase digital outcomes. Learners who engage with DigiAwards will move from learning WITH technology to learning ABOUT technology, achieving progress outcomes for computational thinking for digital technologies and developing digital outcomes in the process.
DigiAwards also supports learning around the design and visual communication technological area. Students who create entries for DigiAwards learn to apply design thinking as they develop ideas and respond to a brief.
The three strands of the technology learning area – Technological Practice, Technological Knowledge, and Nature of Technology can all be explored through DigiAwards projects.
Theme
All entries must reflect a theme.
This year educators and students can choose to base entries around the 2019 DigiAwards theme, or enter under a self chosen theme.
Students can interpret themes in their own way so long as their entries clearly reflect the theme and the audience can see this.
DigiAwards theme
The theme for DigiAwards 2019 is: Innovative Ōtautahi!
This theme was selected to reflect all the exciting, creative initiatives happening in and around Christchurch as our city regenerates. We hope this theme will excite students and foster creativity and innovation.
Self–chosen theme
Educators and students wanting to submit entries under a self chosen theme choose their own key concept to focus projects on.
Entry categories
Students can enter a project under one of the following categories:
Entry criteria
Please ensure that all entries meet the following criteria. To ensure the DigiAwards are fair, entries that do not meet the following criteria will not be judged.
All entries must be the original work of the student/s submitting the entry. Any other media content, such as images and sound, need to adhere to appropriate Creative Commons licensing. See our list of supporting Creative Commons websites in supporting resources.
All entries must be created after 1 February 2019.  
The entry form will need to be completed in full for an entry to be judged. (This will be made available in term 2, 2019)
A link to a 'Public' file/resource needs to be provided for each entry to be marked. Please do not send in 'source' files. For example, entries can be uploaded onto a YouTube account with the privacy option on 'Public', or be able to be viewed independently.
The person completing the entry form (available soon) will need to indicate they have read the DigiAwards terms and conditions.
Entry eligibility
Year 0–Year 8 students from the Canterbury region can enter the DigiAwards. Students will be categorised in the year groups below:
Year 0–Year 2
Year 3–Year 4
Year 5–Year 6
Year 7–Year 8
If students working on an entry are from a range of ages, please select the year range that the oldest student falls into.
An adult will need to be identified in the entry form. We recommend that the adult fills in or supports students to complete the entry form. Parents or caregivers may enter a home-schooled student or students.
This is what teachers said about last year's event...
Your competition is a great platform for me and the children to 'do' challenging DT (Digital Technologies) based work.

Digiawards encourages and inspires students to think creatively and use their imagination. It encourages the idea of students to become entrepreneurs and find solutions to problems the world faces.

INCREDIBLE! Community and students were extremely supportive and excited to be a part of it. Students share it as a highlight of the year. It has inspired students to take risks and try new things.